London is a hub of culture, with artistic events happening all day and all night in a city that barely sleeps! Many tourists are drawn to the glamour and bright lights of London's Theatreland, with the West End housing well in excess of fifty different shows a night.

Photo: ell brown
If you do decide to opt for a traditional evening of high class, red curtain entertainment then we have created a list of the best shows to see while in London.
1.The Phantom of the Opera. Andrew Lloyd Webbers celebrated classic, The Phantom of the Opera, is filled with all the beauty and romance associated with a lavish trip to the theatre. Now in its 26th year on the West End, the show has been popular with those visiting the city for decades. The story line is timeless and the visual effects are breathtaking. Watch out for the falling chandelier.
2. War Horse, now in it's 5th year, the National Theatre's War Horse is a play that uses puppetry to tell the tale of a young boy and his horse during the outbreak of the First World War. War Horse, which recently transferred to Broadway, has received 5 Tony awards and 7 Laurence Oliver Awards and looks set to continue as one of London's most frequently sold out shows. Audience members will be stunned by the lifelike puppetry and moved by the subject matter of the production.
3- Les Miserables. Like Phantom, Les Miserables has been on the West End for well over 25 years and has been deemed a classic production by many critics. Set in the French Revolution, Les Miserables boasts a powerful original score, with songs such as 'I Dreamed a Dream and 'Bring Him Home' almost as famous as the musical itself. If you are looking for high quality music with expert delivery, this show is a MUST.
4- The Lion King. Due to the vast amount of high energy African style beats and the bright, vivid costumes and puppets on stage, this show is accessible to all audience members regardless of what language they speak. Adults and children alike love Simba's journey into adulthood. Taken from the Disney film of the same name, The Lion King's soundtrack (written by Elton John and Tim Rice) delivers many recognisable favourites such as "The Circle of Life" and "Can You Feel the Love Tonight", as well as original music for the show.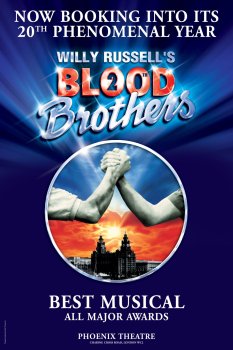 5– Blood Brothers. Blood Brothers is another long running fixture to London's West End, having been at it's home in the Phoenix Theatre since 1991. The production is an exploration of the British class system as well as an onstage dialectic of the nature vs nurture argument. The show has something for everybody as it contains hilarious moments of expert comedy as well as heartbreaking moments of tragedy.
This post was written by Rebecca Felgate.
Rebecca is a London based Theatre Journalist who writes news and reviews for CheapTheatreTickets.com. Rebecca loves nothing more than to indulge in a combination of red wine, an ice cream and a great piece of theatre!